dd36 - Page 2
Three Waters Month
October saw the launch of our Spotlight campaign. With Three Waters Month proving such a success, we'll be highlighting a different aspect of 12d products regularly...stay tuned for our Spotlight on 12d Synergy this coming February!
The idea behind this campaign is to draw together the many great resources we have available, into easy-to-find areas—we feel that a product suite as diverse as is offered by 12d warrants a 'guided tour' sometimes!
12d International Conference 2016 - Silver Jubilee Celebration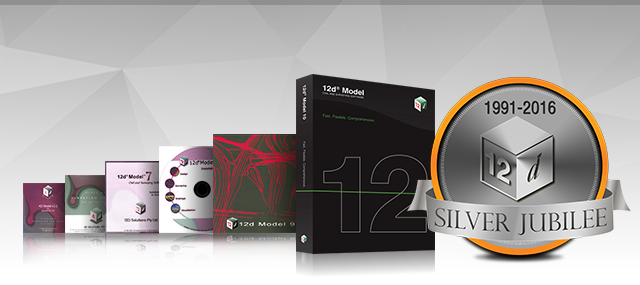 From humble beginnings in the Gregory household's basement, 12d Model has evolved over the last 25 years into the market leading product throughout Australasia, and we couldn't be prouder.
Our 2016 Conference highlighted this Silver Jubilee of the first release of 12d Model (then 4d Model), and it really went off with a bang!
It was again held at the Brisbane Convention Exhibition Centre - on Sunday 24th, Monday 25th and Tuesday 26th July, 2016.
Feedback has been overwhelmingly positive, with delegates declaring this our best Conference yet!
Comments from delegates' feedback surveys included:

I loved having the opportunity to see how others are using 12d Model on their various projects, [and the] opportunity to speak directly to developers.

It was great being brought up to date with the latest and best practices using the software.

I particularly enjoyed the previews of features in the new version.

Everyone was so open and helpful!

The best aspect was seeing the uses made of 12d to streamline user needs, and taking away ideas for improving [my] own systems/processes.


We've put together a fantastic playlist of some of the videos of talks from the Conference, and more videos are being added regularly! Subscribe to our 12d Model YouTube Channel to stay in the loop!